VT201 - Vehicle GPS tracker VT404 more info ...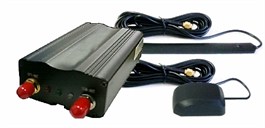 This small device can be very unpleasant surprise for car theft and will help you recovery your vehicle after it haas been stolen. It also has lots of useful function for everyday use. No extra costs for mapping software. No monitoring fees - just SIM card charges. GPS location on-demand - Manual or automatic tracking, monitoring & reporting. Great add-on to any vehicle security system! Put second line of defense into your car!
Really is affordable GPS tracking and, unlike most other systems, your only costs are:
The initial purchase price
A SIM card and its usage (basic plan recommended)
Want to know where it is? Just call the tracker from your mobile phone and it replies with a text message giving its GPS co-ordinats– just type these co-ordinates on any computer into Google Maps or Google Earth to find the location. Or set-up 'auto-track' so it sends you its location at time intervals of your choice.
Features
No added costs for mapping software
No added monitoring fees
Uses freely available Google Maps or Google Earth
Track from any computer, PDA or internet capable mobile phone
No external antenna
Internal rechargeable battery gives 48hours back-up after main power loss
Separate LED, microphone, on/off and 'SOS' button
Alarm alert if vehicle alarm is activated
Manual tracking - call the tracker anytime to find its location
Automatic tracking - you can schedule auto-location reporting
Move alert - sends an alert if the tracker is moved
Geo-fence - sends alert if outside a permitted area of movement
Speed alert - sends an alert if a programmed speed is exceeded
SOS button - sends alert to all programmed mobiles (Max' 5)
Voice surveillance – listen covertly
Controlled and communicates via GSM text messages
Up to 5 mobile phone users
Battery alert if disconnected from the vehicle
Low internal battery alert
Status LED
* Requires to 'see' GPS satellites and have GSM mobile phone coverage to be fully operational. Use indoors can affect position accuracy or operation.
Note: Price not included cost of Vodafone SIM card
"Personal" version PT201 is available