Philips CED1800BT/NAV stereo with 6.2" full color display and navigation...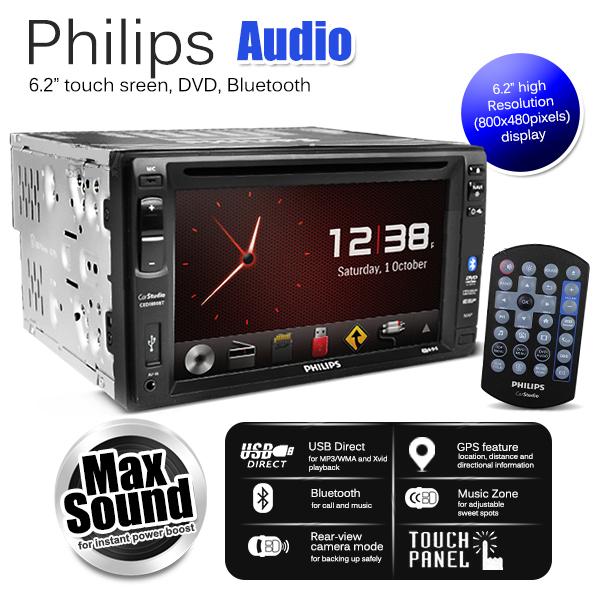 Philips CED1800BT features a 6.2" full color display for video & photo playback is for
ultimate entertainment in your car and navigation system with NZ map. Also enjoy movies & music from multiple sources and never miss a call, thanks to its built-in Bluetooth® receiver.
Price included standard installation.
Picture/Display
Display screen type: LCD TFT
Diagonal screen size: 6.2"
Aspect ratio: Widescreen
Key illumination: Red
Playback media
Disc: DVD, DVD+/-R, DVD+/-RW, (S)VCD, CD, CD-R, CD-RW, MP3-CD, WMA-CD, WMA
USB flash drive (iPhone/iPod not supported)
AV-IN: for portable audio/video playback devices
Video Playback
Playback Media: DVD, DVD-R/-RW, DVD+R/+RW, DVD+RW, Video CD, SVCD, Picture CD
Disc Playback Modes: A-B Repeat, Angle, Chapter repeat, Disc Menu, Fast Backward, Fast Forward, OSD, PBC, Repeat, Resume Playback from Stop, Search forward/reverse, Slow Backward, Slow Forward, Still Picture, Zoom
Video disc playback system: NTSC, PAL
USB Direct Playback: JPEG, MPEG4 (Simple profile)
Audio Playback
Compression format: Dolby Digital, MP3, WMA
Disc Playback Modes: Fast Forward/Backward, Next/Previous Album Search, Next/Previous Track Search
ID3 Tag support: Song title, artist, album
MP3 bit rates: 32-320kbps and variable bit rate
Tuner/Reception/Transmission
Tuner Bands: AM, FM Stereo
Auto digital tuning
Tuner Enhancements: Auto search and store
No. of preset stations: 18(FM), 12(AM)
Navigation system with NZ map.
Optional reversing camera.