Key cutting service
In our workshop we can cut automotive keys, code transponders and "Smart keys" to your vehicle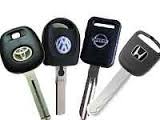 We have latest professional equipment to cut any automotive key profiles, program new transponders and smart keys to your vehicle immobiliser or body control module.
We make new keys (not clones) so we need your car and all available keys for the vehicle in our workshop.We avoid cloning because cloned keys share same ID number and security code, so if you decide to delete stolen key from car memory or if immo/BCM module mark this ID as blocked/faulty ALL your cloned keys with same ID will stop working. When we make NEW key it receives new ID number and security code, so ID is independent from other keys in that vehicle.
We also specialize in repairing and reprogramming immobilisers, body control modules, SRS modules and dash clusters.